TOBI MATTINGLY
teaching artist of music & theatre
I have worked with Tobi on several large projects over the years, including a recording session where she taught, directed and managed a children's choir of about 40 young children (ages 9-13). We were in a big, fancy downtown recording studio, so the kids were naturally distracted and excited. Tobi had the unenviable task of holding their attention while also asking them to wear headphones, sing along with a recording and coax musical performances from them.
Throughout the session, I was continuously impressed (more like awe-struck) with the way Tobi kept the kids engaged while also getting them to sing well and staying true to what we needed the music to sound like. It was a miraculous feat, and one of the many reasons why I work with Tobi whenever possible.
She has high artistic and professional standards, an unequaled work ethic, and a compassionate demeanor with whomever she is working. And she is generous and kind. I recommend her with the highest praise.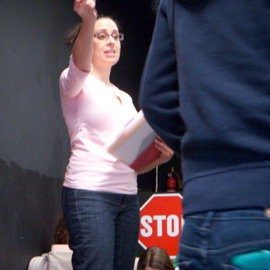 In addition to my work with adults, I've got a passion for the next generation of actors and musicians and work frequently as a teaching artist.
I've taught with organizations such as American Theatre Company's Mosaic and Bridge programs, Auditorium Theatre/Roosevelt University, Long Lake Camp for the Arts, Improv Playhouse, the Beverly Arts Center, Citadel Theatre, and more.